---
The Boatyard Story – About Us
Situated on Peel's historic quayside the Boatyard enjoys views of the bustling marina and ancient castle offering you the perfect spot to relax over a delicious lunch or candlelit evening meal. Fresh seafood straight off the boat and local meat from the Islands finest butchers is prepared daily by the head chef and served to you by our friendly Boatyard team.
Seasonal à la carte and set lunch menus, with daily fisherman specials on our specials which may include local lobsters (seasonal), queenies, scallops and whole fish. The kitchen uses as much locally sourced produce as possible to bring you a true taste of the Island and its surrounding seas. As well as a handpicked wine and gin list, the drinks menu features Isle of Man beers, mineral waters and soft drinks.
The Boatyard caters for gluten free and other special diets on request and welcomes families with young (and old) children who can enjoy the Little Pirates menu and activity bags. 
Founded in 2013 by the Mowat Family, Joan, Robin & Laura, as well as the extended Boatyard family look forward to welcoming you to our restaurant by the sea. Please take a moment to view our menus, check out our Instagram feed for pictures and make reservations by booking online.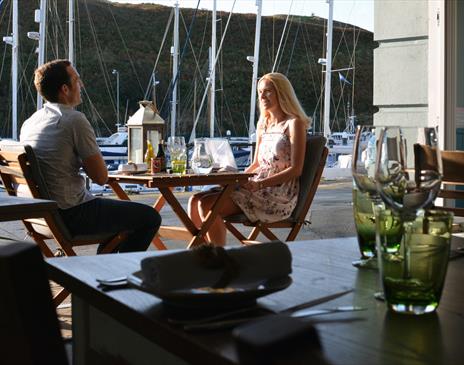 ---
Boatyard Gallery
O P E N I N G   T I M E S
L U N C H 
Tuesday to Saturday: Lunch 12pm till 1.45pm (last booking time)
Sunday's: 12 till 4pm (last booking time)
D I N N E R
Wednesday to Saturday: Dinner 5.30pm till 8.45pm (last booking time)
Please note, it may be necessary to amend our opening days and serving times. 
We will try to notify of any changes via our Facebook page.
B O O K   O N L I N E
Click on the Book A Table button to make reservations.